By Rebecca Nichols | rebecca.nichols@uss.salvationarmy.org
August 31, 2016
---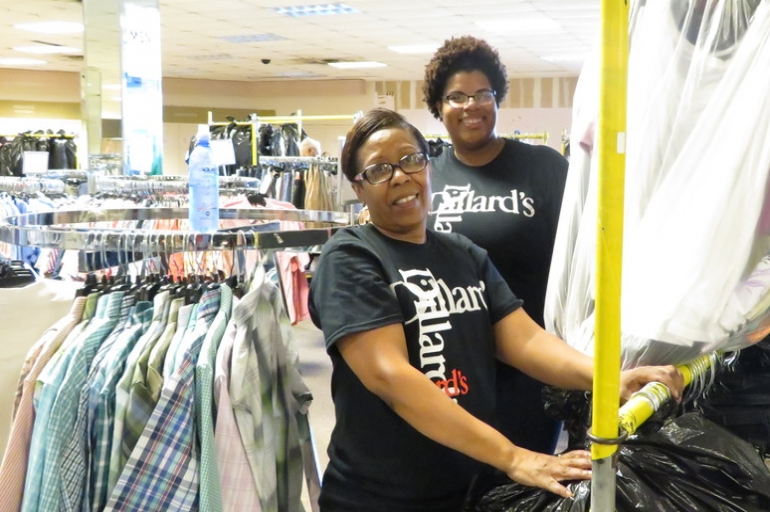 August 31, 2016
Rebecca Nichols | rebecca.nichols@uss.salvationarmy.org
Baton Rouge, LA— Sometimes there isn't a way to properly express gratitude. There isn't a hug big enough or a "thank you" loud enough. I've experienced that feeling so many times working for The Salvation Army. I'm rarely surprised these days by the love we get from the community, the love that's shared between neighbors, the love that still exists in our world. It's comforting to know I can expect it now, but it's still often too big to put into words. Even when it's hard to find, I know it's there because I see it every day where I work. I know there's hope.
Within a few days of the water rising in South Louisiana, I got an email from Mark Souter with Dillard's department store. He simply introduced himself and said, "We want to help."
These are always the most comforting words to hear during a disaster situation, and once I spoke with Mark in person, I really understood how much they wanted to help. Dillard's wanted to donate 25,000 units of new clothing for flood victims but they also asked how we would distribute it. This isn't a luxury we can often offer to those we're assisting, so I told him I wasn't sure just yet.
Having seen our warehousing site, Mark knew we didn't have racks or shelves for clothing and offered to send his people in to rail out the walls. Only one problem, there was no air in the part of the mall we were utilizing for our distribution center. I told him I didn't think we could fix the air conditioners, mechanically or financially, and he said, "Let me see what I can do." I then got a text from a volunteer coordinator working at the warehouse… She said the outlets weren't working either so we couldn't even plug in large fans. Mark said, "Let me see what I can do." I asked Mark if he could loan us some racks to put the clothing on… He said, "Let me see what I can do."
This became a massive job, but also one very special to The Salvation Army. He sent us an electrician to fix the outlets and air conditioning, at no charge to us. He sent us 150 racks on which to place the clothing, at no charge to us. He sent us half a million dollars in clothes to place on those racks …at no charge to anyone. He was one of our many heroes during this flood event. And because he was our hero, he became the hero of thousands of people we've helped with that Dillard's blessing. I jokingly texted Mark that we loved him on the day he solved so many problems for us, but it wasn't really a joke. There was love all around. We loved because he loved. I see the love and there is hope.
https://salvationarmyalm.org/wp-content/uploads/2016/08/dillards-3.jpg
360
640
https://salvationarmyalm.org/wp-content/uploads/2019/11/2_LineALM_WEBSITE-LOGO-2.png
2016-08-31 16:41:57
2016-09-01 13:35:13
Dillard's Donation Makes a Difference in Baton Rouge